---
What To Do With All Those Business Cards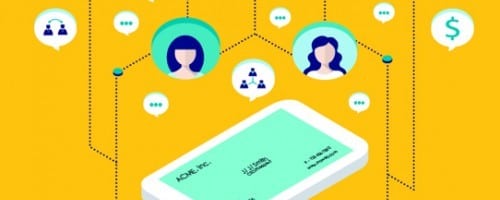 Wednesday October 28, 2015
If you attend conferences, if you have a booth at a trade show, if you network – in other words, if you meet people in the course of business – you have a collection of business cards. If you're like me, you sometimes suspect they are multiplying in the darkness of your desk drawer.
There are the ones from the trade show you recently attended, from your Chamber of Commerce breakfast, from the local association meetings. There they are, in bundles, stacks and piles. Waiting for you. What in the world are you going to do with them? Perhaps even more important, why do anything with them?
Why, Part 1
Maybe even more important that what to do with them is why do anything at all. Likely, these cards represent someone who has expressed an interest in what you do, so you will add them to your contacts. If they don't need your services now, they might in the future or they may know someone who does. You need to stay in touch with them and an important tool for doing so is email.
As a component of your inbound marketing effort, a percentage of these people will click from your email to your website, giving you an additional opportunity to tell them how you are different than your competitors.
Record first
There are lots of ways to capture the information on the cards into some sort of database. You can type them in as you watch TV or pay your kid ten cents per card to type in the name, title, company, email address, web address and phone number to a spreadsheet.
Using one of several apps available, you can use your smartphone to take a picture and let the app translate the picture into data. These apps are getting better all the time, but you still need to check for accuracy, especially if the card has a dark background, funky fonts or low type/background contrast. (This is a good reason, by the way, to be sure your own business cards are pretty straightforward in design.) I happen to like Evernote, but whatever you use, once you have captured the data, you want to be able to export it to a spreadsheet.
Next, slice and dice
This is the easiest part: add a note about what kind of contact they are (prospect, vendor, partner, general, etc.) so they can be sorted easily. In a separate column, add any additional notes, like where you met them, when to follow up, and so on.
Choose an email manager platform
There are several, ranging from free (for small mail lists) to the very robust and pricey. Spend a little time looking at product comparisons to decide which one will work best for your organization. You want to be able to import the data from your spreadsheet and you want it to work for you as your list grows. You will probably want to import it into your CRM.
Why, Part 2
Now you are going to start communicating, sharing what you know and building your reputation as a knowledgeable expert. You can send technical insights, insights into your clients' industry, observations about a recent conference, pertinent comments from other experts and much more. You aren't spamming anyone, because you are sending useful information. Sure, there's a chance some people will opt out, but most won't. Some will share your information with colleagues, who will then subscribe to your emails, spreading your influence.
Maintain the conversation
If you have someone's business card, presumably there was some mutual interest. Build on that interest with your useful information, sent periodically. Don't email so often people hit the spam button on you, but often enough they'll remember you. Once a month is okay, once a week may be too often. Be sure to include a forward or share button and an "add me to your email list" button.
Make it easy for people to add themselves to your contact list – because with the useful information you'll be sharing, they'll want you to stay in touch.