---
AMA Richmond Recognized in National Chapter Excellence Awards!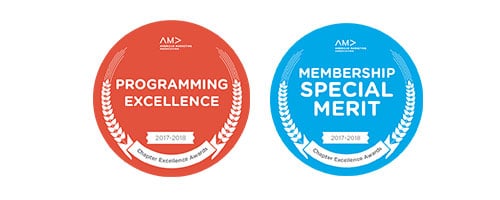 Tuesday November 6, 2018
The AMA Richmond chapter has been recognized for "Programming Excellence" and "Membership Special Merit" for the 2017—18 year by AMA international headquarters. The AMA's annual Chapter Excellence Awards (CEAs) program highlights exceptional performance among the organization's 70+ professional chapters across the U.S. and Canada.
The CEAs were established in 1974 to recognize local AMA chapters for outstanding achievements in leadership, membership and programming. Entries are judged over a three-day period by a panel of past-presidents of award-winning chapters and members of the AMA Professional Chapters Council.
The AMA Richmond Board is proud to have our chapter recognized on a national level for the hard work and dedication of our board members to make the chapter great for our membership!