You may have heard that AMA-Richmond's vision is to be the vital community for all marketers in Richmond to learn, connect, serve, and grow. Through the years the chapter has grown each year thanks to the local marketers that have found value in our monthly local and national speakers, networking events, and breadth of resources. We've put so much effort into making sure that our members learn, connect, and grow, that we put "serve" on the backburner—until now.

This year we launched our first community service project with the amazing folks at
Sportable
. Sportable is a local non-profit that helps transform the lives of people with physical and visual disabilities through sport. Members participate in sports like archery, basketball, rock climbing, and swimming. They also have the opportunity to join teams and compete at the regional level.
Even if this is your first time hearing about Sportable, it probably isn't your first time hearing about their Executive Director and Style Weekly's 2017 Top 40 Under 40 recipient, Hunter Leemon. Sheila Villalobos, AMA-Richmond's first VP of Community Relations and Service Projects, worked with Hunter to launch a pilot project that allowed interested professional and collegiate AMA-Richmond members to flex their marketing muscles for a good cause: grow Sportable's awareness on social media to encourage donations by featuring the great work Sportable and its recipients have accomplished.
AMA-Richmond volunteers Sierra Staffords, Trakaya Ransom, Emily Murphy, and Sheila worked to build a project plan around Sportable's goal that encouraged best practices in the use of video, images, copy, and the use of paid ads.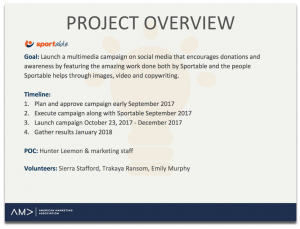 The volunteers went out into the field to collect
videos
and
images
of the stars of the show: Sportable athletes in action. With AMA-RVA volunteer guidance, the Sportable marketing team then converted these into bite-sized social posts that encouraged engagement and a direct call-to-action to donate.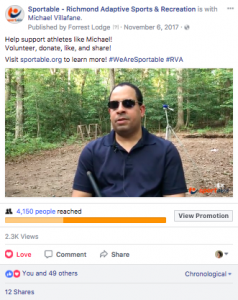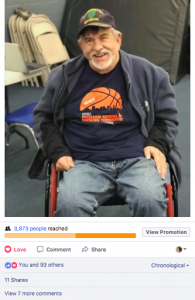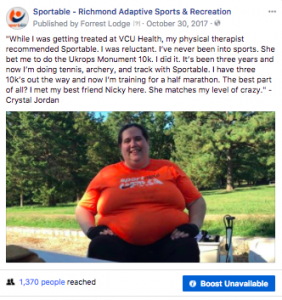 The Sportable marketing team was also trained to effectively use paid ads to encourage social reach and leverage free tools (like Canva!) to create content, manage social calendars, and interpret analytics.
The Results?
Sportable is killing it on their most used platform—Facebook!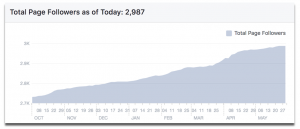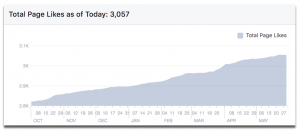 Most importantly, their marketing team is equipped with the best practices they need to continue growing their reach so that their ultimate goal of increased fundraising is reached.
"Give a man a fish and you feed him for a day; teach a man to fish and you feed him for a lifetime."
Stay tuned for our next community project this fall. Coming up next: mentorship opportunities!