The Power of the News Reader: Highlights from the 2019 News Advertising Panorama
It may be easier than ever to buy audiences at scale through digital and social media platforms, but what's the value of the audience's media environment and context? What effectiveness is lost in the chase for media efficiency? Consumer trust of social media is at an all-time low, yet advertisers continue to plow budgets into the likes of Facebook, Instagram, and YouTube.
In an exclusive preview of the newly updated second edition of its News Advertising Panorama study, the News Media Alliance's Vice President of Research & Insights Rebecca Frank will give AMA Richmond members and guests insights into the valuable news reader audience.
NMA has compiled a thorough update to its first release of Panorama, using a wide range of sources including Nielsen Scarborough, comScore, Kantar Media, first-party publisher member data, and more, to paint a comprehensive picture of the value of the news audience for advertisers.
Attendees at this AMA Richmond forum will get details behind how news media provides advertising strategies and channels that offer brand safety and drive consumer action. A valuable session for retail advertisers, agencies, publishers, and marketing consultants, attendees will learn why the news media is one of the strongest advertising channels and what publishers and their advertising partners can gain from reaching out to the news audience. It's sure to be especially relevant during a critical election year when news engagement will reach a fever pitch. Please join us.
About Rebecca Frank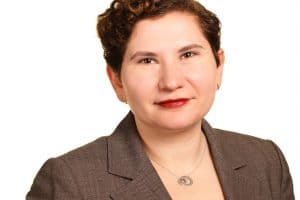 Rebecca Frank is Vice President of Research & Insights at News Media Alliance. She is focused on understanding the needs and behaviors of news audiences, to inform the work News Media Alliance does on behalf of its members. She has a background in market research, digital analytics, data analysis, social media, and marketing strategy.
Prior to joining News Media Alliance, she was the Senior Manager of Audience Experience and Acquisition at SmartBrief, a business publisher based in Washington, DC. She helped launch the Global Strategy & Analytics Group at the public relations firm Burson-Marsteller, working with Fortune 50 brands to develop online reputation monitoring tactics, as well as proprietary audience research and analysis tools. Her previous work also includes audience research and strategy in the public health, automotive and pharmaceutical sectors.
Rebecca graduated from Tufts University with a B.A. in Political Science and Economics. Originally from the New York City area, she currently resides in Alexandria, Virginia.
About our Sponsor
Virginia Business is the only publication dedicated to covering economic activity in every sector and every region of the state. Since its creation in 1986, the magazine has attracted loyal readers and established a reputation as a "must read" for anybody who wants to stay abreast of economic events in the commonwealth. The publication has received 17 national journalism awards since 2010.