The term 'storytelling' has become an agency buzzword of late. From creative shops to marketers, it seems everyone is a storyteller these days. And the fact is, they're right. We are all storytellers. But few of us are storybuilders, capable of not only understanding the structure of story but able to use it to connect the character of a brand to the people that consume it. Story has a form, one that Stefan Mumaw is going to break down for you. He'll lay out the structure of story and use real-world examples to show how each story component is used to build an emotional bridge between brand and consumer. Bring a few tissues, story has a knack for producing both tears of laughter and empathy and Stefan will use both to show just how powerful story can be.
About Stefan Mumaw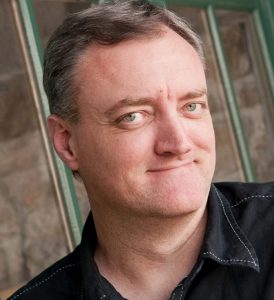 Stefan Mumaw is Creative Director at First Person, a digital agency headquartered in San Francisco. Previously, he peddled his wares as Creative Director for DEG, Callahan Creek, The Brainyard and REIGN. He's led creative efforts on brands large and small, including Roland, Pioneer, Coca-Cola, Sony, Hurley, Tyson, Tennisset.com, Westar Energy, Elanco, Chevrolet, and Hallmark.
He has authored six books, the most recent being Creative Boot Camp: Generate Ideas in Greater Quantity & Quality In 30 Days. Previously, he authored Chasing the Monster Idea, co-authored Caffeine for the Creative Team and Caffeine for the Creative Mind with Wendy Lee Oldfield, and penned Redesigning Websites, and Simple Websites.
Stefan has been a regular speaker at creative industry gatherings and corporate events over the years, writes frequently for a variety of creative industry rags like HOW and PRINT Magazine, is a 6-time Lynda.com author, won numerous industry awards and been known to embarrass himself and those around him if given the opportunity.
Stefan calls sunny southern California home, along with his beautiful wife, Niqua, and his designer-in-training daughter, Caitlyn.