Big Data, Analytics, and Infosense: Using Technology to Drive Customer Loyalty and Advocacy
In customer experience, there is no such thing as meeting expectations. You either exceed expectations or you fall short. According to an IBM study, more than three out of four customers expect organizations to understand their individual needs. Some call this the Amazon Effect. Trendwatching.com calls this info-sense, which is using data to understand and meet the individual, personalized needs of your customer.
Jack Welch said there are two forms of competitive advantage: Learning more about your customers and putting it into action faster than your competition. Are you turning big data into useful data? Are you leveraging analytics to improve the customer journey?
Evan Carroll, co-author of Blue Goldfish, will uncover how companies are using data, analytics, and technology to create world-class customer experiences. You'll leave with a full toolbox of strategies, tactics and practical advice to improve your customer experience and ultimately your bottom line.
About Evan Carroll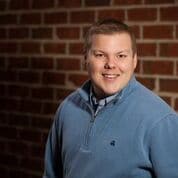 Evan Carroll is an author, speaker, and experience architect. His career spans roles  in  user  experience,  marketing,  and  product  management  for  leading agencies and technology companies. He's  the  author  of  two  technology  books  and  has  appeared  in  major  news outlets including The New York Times, CBS Sunday Morning, NPR's Fresh Air, The Atlantic, and Popular Science.
A  frequent  speaker  on  technology,  marketing,  and  digital  culture,  Evan  has presented  to  audiences  at  SXSW  Interactive,  the  Library  of  Congress,  the Internet  Archive,  the  American  Bankers  Association,  the  American  Bar Association,  the  American  Marketing  Association,  and  the  Direct  Marketing Association, among others.
Before starting Evan Carroll and Associates, Evan worked at ChannelAdvisor, an e-commerce software company that  helps  brands  and  retailers  extend  their reach.  Previously,  Evan  worked  at  Capstrat,  an  award-winning communications agency in the Omnicom Group. There Evan helped technology, healthcare, and higher education clients craft their digital and traditional communications.
Evan is co-author of the book, Blue Goldfish, which highlights businesses leveraging technology, data and analytics to do a "little something extra" to improve the experience for their customers. A  leader  in  digital  legacy  and  personal  archiving,
Evan  is  co-founder  at  The  Digital  Beyond  and  co-author  of  the book, Your Digital Afterlife: When Facebook, Flickr and Twitter Are Your Estate, What's Your Legacy? (New Riders Press, 2010). Evan holds MS and BS degrees in Information Science from UNC-Chapel Hill. He's a past president of the Triangle American Marketing Association and is a member of the National Speakers Association.