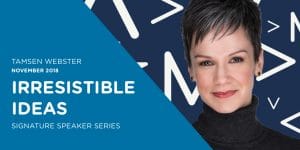 At the heart of marketing lies one seemingly elusive goal: how can we actually get people to love our stuff as much as we do? Thankfully, there's a surprisingly simple answer, and it lies in how we come up with our products and services in the first place.
Tamsen Webster spent 20 years making messages to move minds and markets and four years turning ideas into action as the Executive Producer of one of the largest TEDx events in the world.
During this highly interactive session you will learn:
The three most common mistakes we make when communicating our ideas and what to do instead

The fastest way to overcome people's natural resistance to change and how to use it in any format

The simple formula for making ideas irresistible
About Tamsen Webster
Tamsen's own Red Thread weaves through her 20 years as a brand and message strategist, though she says she learned the most about inspiring change as a Weight Watchers leader.
As a TEDx Executive Producer, Tamsen coached experts, iconoclasts, and pioneers from around the world to build their Red Threads into Ideas Worth Spreading—and more than 9 million YouTube views.  
Today, she's a globe-hopping keynote speaker on storytelling, branding, change management, and idea development, and a go-to consultant for enterprise companies like Verizon, Johnson & Johnson, and State Street Bank who want to their big ideas to have an even bigger impact.
Tamsen lives in Boston with her other half/chief ballroom dancing partner, and two amazing boys with big ideas all their own.