In today's digital world, consumers are more impatient than they've ever been. They want answers, and they want them immediately. Otherwise, the buying process stops dead in its tracks.
In this power-packed presentation, Marcus Sheridan will bring his incredibly popular speaking style to AMA Richmond to show how brutally honest and prolific teaching online saved his business and has since transformed many other companies as well. If you're looking for a simple yet powerful way to immediately generate more traffic, leads, and sales with you digital marketing efforts, this is a session you won't want to miss.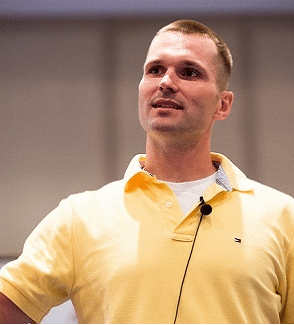 About Marcus
In 2001 and fresh out of college, Marcus Sheridan stumbled across his first business with two friends and began installing swimming pools out of the back of a beat-up pickup truck. 9 years later, and with the help of incredible innovations through inbound and content marketing, Sheridan's company overcame the collapse of the housing market and became one of the largest pool installers in the US and currently has the most visited swimming pool web site in the world—www.RiverPoolsandSpas.com .
With such success, in late 2009, Sheridan started his sales, marketing, and personal development blog—The Sales Lion, and has since grown The Sales Lion brand to be synonymous with inbound and content marketing excellence while being featured in multiple industry publications, including the New York Times where he was referred to as a "web marketing guru."
Today, when Sheridan is not giving riveting and passion-filled keynotes around the globe or consulting with businesses and brands, he generally finds himself on an adventure with his wife and 4 children.