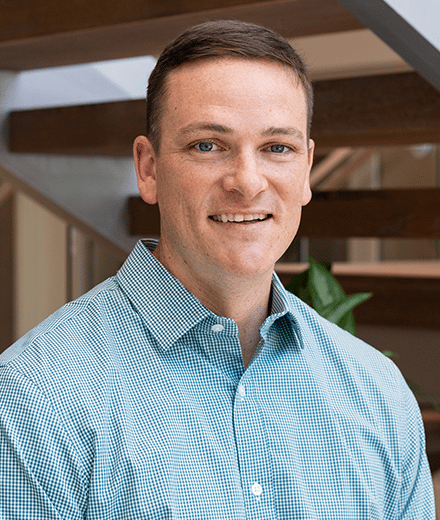 Sponsorship Chair
Matt Suttmiller
Dotted Line
---
As Associate Account Director, Matt serves as a senior account leader who establishes senior-level client relationships with Dotted Line's growing clients. While working closely with our strategy and creative teams to meet client goals and deliver ROI, Matt's 10-plus years of marketing experience bring valuable assets to help our agency and clients go to the next level.
Prior to joining Dotted Line, Matt's experiences included the Washington Nationals and its ballpark enterprises department; field marketing management with the independently owned coconut water brand Vita Coco; RedPeg Marketing, an experiential-focused agency; and brand manager experience at Smithfield Foods, the American pork producer and food-processing company. His brand and marketing-related, large-scale, multi-facet marketing experiences include brands such as GEICO, Virginia Lottery, Texas on Tour, Volkswagen, Capital One, Smithfield, Farmer John and Farmland.
A Tidewater (or "757") native with degrees from James Madison University (undergraduate) and Old Dominion University (M.B.A.), Matt grew up playing basketball and baseball. Now, you can find him on the tee ball field or on the basketball court with his oldest daughter and taking the coaching gigs perhaps a bit too seriously. You can also find him, his wife and two daughters at a beach or a pool with family and friends when it's warm outside and enjoying their time at home with their new lap dog (also a girl – he's outnumbered).
President

Boz Boschen

McKesson

President-Elect

Amanda Creger

EY

Immediate Past President

Samantha Kramer

VCU Health

Treasurer

Jennifer Murphy

Hortenstine and McCown

Secretary

Bertie M. Allen

Grey Matter

Vice President, Programming

Kevin Wilson

Commonwealth Dentistry

Director, Programming, Education

Amy Baril

NDP

Director, Programming, Special Events

Antonia Hite

DJB Hospitality/Sedona Taphouse

Director, Programming, CMO Roundtable

Patty Sager

Williams Mullen

Director, Programming, Logistics

Tim Miller

ASM Richmond

Membership Chair

Caitlin McNichol

Worksite Labs

Director, Membership, Groups

Todd Wilcox

Effectv

Director, Membership Engagement

Rendha Maharosa

ICF Next

Communications Chair

Sarah Leffler

Savara Hospitality

Director, Communications, Website

Shelby Thompson

Markel

Director, Communications, Social Media

Caroline Bass

Plein Air

Director, Communications, PR & Email

Casey Prentice

The Hodges Partnership

Director, Collegiate Relations

Cathy Ferris McPherson

Mary Baldwin University