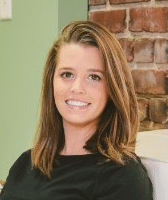 Director - Communications, Public Relations
Laura Elizabeth Saunders
The Hodges Partnership
---
Laura Elizabeth is an account manager at The Hodges Partnership, a strategic communications firm specializing in traditional public relations, digital and content marketing, social advertising and communications research.
LE's work focuses primarily on market and audience research, comprehensive communications audits and inbound marketing for lead generation. During her time at Hodges, she has also gained experience in traditional media relations, technical writing and community outreach programs.
A mass communications/PR graduate from VCU, LE joined the Hodges team after working as a media specialist for the Virginia Department of Professional and Occupational Regulation. She and her husband Paul (and Pomeranian named Pasha) live in Richmond's Northside.
President

Kourtney Ennis

Robins School of Business

President-Elect

Jennifer Barbin

Wildfire

Secretary

Nelson Gaspar

Virginia Premier

Treasurer

George Crowell

Harris, Hardy & Johnstone, P.C

Immediate Past President

Charleen McManus

Tiny Monster Marketing LLC

VP - Membership

Jessica Van Lear

Markel

VP - Programming

Kristin Harrison

WebStrategies Inc

VP - Communications

Alex Mercer

Outdoor Living Brands

VP - Community Relations + Service Projects

Sheila Villalobos

Precision Marketing Group

VP - Sponsorship

Barbara Slatcher

Director - Collegiate Relations

Samantha Platania

Meadows Urquhart Acree & Cook

Director - Membership, Volunteers

Aylin Berkowitz

Allianz

Director - Membership, Groups

Todd Wilcox

Comcast Spotlight

Director - Membership

Brooke Thaxton

The King Agency

Director - Communications, Social Media

Amanda Colocho

The Hodges Partnership

Director - Communications, Email

Terry Crockett

Virginia529

Director - Programming, Education

Jane Broadbent

Director - Programming, Special Events

LaTonya Whitaker

DJB Hospitality/Sedona Taphouse Restaurants

Director - Programming, CMO Roundtable

Patty Sager

Williams Mullen

Director - Programming, Speaker Recruitment

John Moreland

Director - Programming, SIGs

Taylor Croley