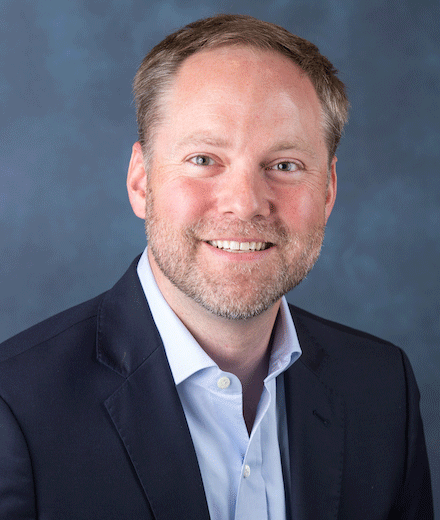 Immediate Past President
Boz Boschen
McKesson
---
Boz Boschen is the Marketing Manager responsible for Primary Care within Product Strategy and Supplier Partnership department at McKesson Medical-Surgical, where he provides leadership in planning, development, and implementation of integrated marketing campaigns that drive business value for McKesson's partners.
Boz has held a variety of marketing roles in organizations throughout Richmond. He began his career at the Richmond Times-Dispatch in local media sales. Boz then joined The Martin Agency as a key contributor to the Alltel Wireless media team, also assisting with new business pitches and media work for NASCAR, BF Goodrich, Pizza Hut, and others. He joined Capital One's brand advertising team to lead media investment strategy for the NCAA Corporate Champion and College Football Playoffs sponsorships. At Capital One, Boz contributed to the relaunch of the Venture Card credit card, as well as the product launch of the Journey, Cash, and Quicksilver credit cards, and the initial pilot of the bank's 360 Cafes. Prior to joining McKesson, Boz served as Digital Media Director at local agency ndp, leading digital strategy for its largest clients.
Boz has been active in national media organizations, including the Association of National Advertiser's Media Leadership Committee and Trustworthy Accountability Group's Anti-Fraud Workgroup. He also volunteers as a marketing mentor with Startup Virginia and freelances for select clients and agencies. Boz earned a Bachelor of Arts in Creative Writing from St. Lawrence University.
Outside of work, Boz enjoys all manner of outdoor pursuits, from ultimate frisbee to mountaineering, and is always looking for an excuse to check out an up-and-coming musical act or artist. He resides in the Museum District with his wife and three kids, who do their best to keep him on his toes.
President

Amanda Creger

EY

President-Elect

Amy Baril

NDP

Secretary

Jason Lee

Greater Richmond Partnership

Treasurer

Jennifer Murphy

Hortenstine and McCown

Vice President, Membership

Caitlin McNichol

Worksite Labs

Director, Membership, Groups

Todd Wilcox

Effectv

Director, Membership Engagement

Rendha Maharosa

ICF Next

Vice President, Programming

Amy Morgan

NDP Agency

Director, Programming, CMO Roundtable

Patty Sager

Williams Mullen

Vice President, Sponsorship

Antonia Hite

Old Dominion Electric Cooperative (ODEC)

Vice President, Communications (Co-chair)

Sarah Leffler

Savara Hospitality

Vice President, Communications (Co-chair)

Jason St. Peter

Think804

Director, Communications, Social Media

Caroline Bass

Plein Air

Director, Communications, Email

Ore Diyaolu

Director, Communications, Content

Alie McArdle

Ink & Influence

Director, Communications, Website

Shelby Thompson

Markel

Vice President, Community Outreach

Michael Foster

FABLE Branding + Advertising

Director, Community Outreach, Collegiate Relations

Coleen Moore

Keiter CPAs